Need Sales Lead Generation?
Most sales people know that they need around 35 qualified prospects in their pipeline at all times to keep a sustainable closing flow.
However, 35 in the pipeline means hundreds of calls, email, or letters to get a prospect to the qualified stage.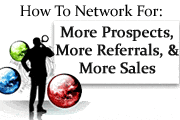 And with competition steeper and smarter than they've been in years, lead generation can be a costly and time-consuming expense if not done correctly. And that's where we can help!
Sales Lead Generation Training
The Sales Training Center provides sales lead generation techniques and sales lead generation strategies to help fulfill your lead generation needs.
We offer a variety of training programs – in-person, online, self-study, and customizable – that help you to create and manage an effective lead generation program. These programs include lead generation videos, lead generation letters, lead generation scripts, and referral lead generation ideas and methods.
These sales lead generation resources provides you with lead generation techniques and lead generation strategies that help keep your pipeline full!
We offer lead generation tools and training for:
How to improve your cold calling skills with great lead generation scripts

Lead generation videos for you to view how the pros do it!

How to write lead generation promotional letters

How to establish and use a referral lead generation program

How to find good lead generation sources for developing lead generation lists

Lead generation management tips and processes

Lead and sales tracking and measuring ROI

SEO and pay-per-click programs
Find Sales Lead Generation Techniques, Sales Lead Generation Strategies, & Other Lead Generation Tools
To find sales lead generation techniques, sales lead generation strategies, and other lead generation tools or products , click on either the recommended course(s) below, or select "Marketing: Lead Generation" from the "Professional Development" section of the search box below.