Sales Conference, Meeting, & Event calendar
Conferences, Meetings, & Events
Listed below are conferences, meetings, & events from vendors and Associations to help with your Sales training and Sales sales training needs.

To see more details or to make a reservation for a particular event, simply click the title and follow the appropriate directions therein; to see events for future months, click on the desired month.
Featured Events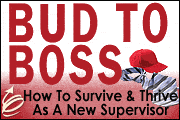 Bud To Boss Management Training Seminar
Management Fundamentals For Your Transition From Co-Worker To Supervisor
Bud to Boss is a unique training event designed to equip new supervisors with the fundamental skills they need to skillfully shift from team member to leader.
Seminar Calendar
We currently do not have an exact match for your search. Please restate your search or select another month.
Professional Development
Products & Services to help manage and grow your career!

Books
Ah, the pleasure of reading a book!

Need training or resources in other areas? Try our other Training Center sites:

HR, Acct., Banking, Insurance, Fin. Svcs., Real Estate, Mortgage, HealthCare, Safety, Sales

Want Your Event Listed?

Contact us to have your product, services, or events listed.
TheSalesTrainingCenter.com offers seminars and conferences from vendors and Associations to help with your sales training needs.