Improve Your Trade Show Marketing!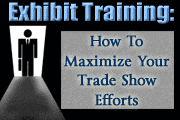 Trade shows represent a significant opportunity to enhance brand and/or product visibility, promote new and/or existing products, generate leads, and drive sales.

whow participation also enables you to learn about industry trends, gain competitor insights, make key industry contacts, and further solidify relationships with current customers.

But whether you are looking to get the right booth, select the right trade show marketing message, or provide trade show sales training to your workforce, exhibiting at a trade show can costly but, if done correctly, very profitable.

Find Resources For Improving Your Trade Show Marketing & Trade Show Sales Training Needs

The Sales Training Center provides resources for improving your trade show marketing and trade show sales training needs.

To find your trade show marketing products and services, click on either the recommended links below, or select ?Sales Training: Trade Shows? from the ?Professional Development? section of the search box below.
Professional Development
Products & Services to help manage and grow your career!

Books
Ah, the pleasure of reading a book!

Need training or resources in other areas? Try our other Training Center sites:

HR, Acct., Banking, Insurance, Fin. Svcs., Real Estate, Mortgage, HealthCare, Safety, Sales