Sales presentation training is proven to make an impact on closing more business. After all, people are persuaded by people, not just the facts.
So how you present your offer can be more important than what you present.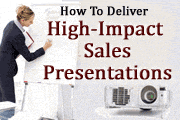 All things being equal, the sales rep that can present their value best, based on the customer's most important needs, will most likely win the business.
That is, the sales person with the best sales presentation techniques or sales presentation skills earns the commission! And why shouldn't this be you? And that's where we can help!
Learn How To Give Great Sales Presentations
The Sales Training Center provides sales presentation training that will help you improve your sales presentation techniques, create and give effective sales presentations, and better-connect with your customers to help you close the sale!
The Sales Training Center offers sales presentations skills training for many areas that can teach you how to create and give effective sales presentations, including:
Sales strategy presentation

Sales presentation methods

Sales presentation techniques

Sales presentation skills

Sales pitch presentations
We also offer a number of sales presentation ideas, sales presentation tools, and sales pitch presentation training and coaching products to help make you a more-effective salesperson!

Find Sales Presentation Training

To find sales presentation training courses and programs, click on either the recommended course(s) below, or select " Sales Training: Presentations" from the "Professional Development" section of the search box below.